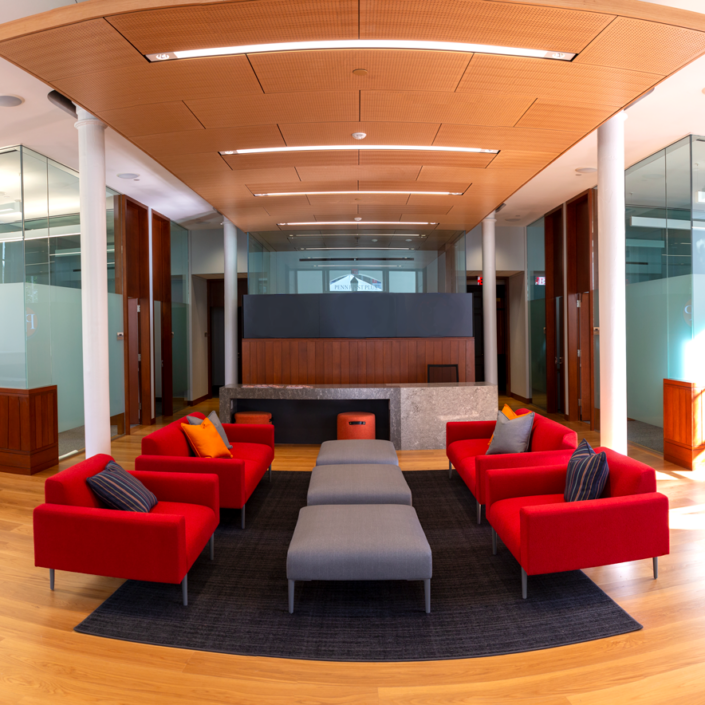 Penn Priority

//
Centered on Student Success
The opening of the Penn First Plus Center highlights the University's commitment to serving the needs of first-generation and lower-income students.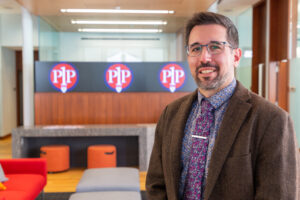 While many of Penn's student services have been moved entirely online in response to the COVID-19 pandemic, a center has been open specifically for first-generation and lower-income students during this unusual fall semester. In September, the Penn First Plus Center opened its doors in College Hall. "A space of this size right in the heart of campus is a statement of the investment Penn is making in becoming a more equitable place for students of all social and economic backgrounds," says Marc Lo, Executive Director of Penn First Plus.
The Penn First Plus Center offers a central, supportive home where first-generation and undergraduate students of modest financial means can form a vibrant community, learn more about resources available to them at the University, and connect with faculty and alumni. Students can come to the Center and get assistance from staff rather than go from department to department. From the furniture and color schemes used to the layout of the space, student feedback was incorporated into the final design—fitting for a center that serves them.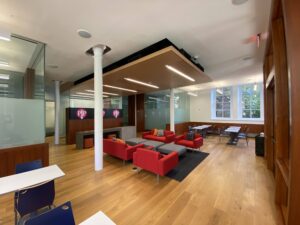 Helping bring resources directly to students is key to the importance of the Penn First Plus Center. "When I came to Penn, I felt fortunate that the University already had abundant supports for students," Lo says. "But finding them, or even knowing what to ask for can be daunting for a first-generation student whose family or high school did not provide a clear idea of what to expect in college. We want the Penn First Plus Center to be a place where students can ask any questions they have—with no worry of sounding unsophisticated compared to their peers."
When the depopulation of campus due to COVID-19 created heightened need for students across campus, Penn First Plus was instrumental in helping students secure necessary resources, working with departments including Student Registration and Financial Services (SRFS) and Student Intervention Services. Creating partnerships with more student services across campus is crucial to the University's vision for the Center, and Penn First Plus as a whole, and the space is designed to facilitate interactions that bring resources directly to students. "We made sure to have soundproof rooms for small, personal consultations on sensitive issues," Lo says. "We hope that our partners in Career Services, the Center for Undergraduate Research and Fellowships, SRFS, and Undergraduate School academic centers will use these spaces—at a time when it is safe to do so—so we can simplify what can be a complicated process for students who have enough on their plates already."
Growing support for Penn First Plus is a major priority for the University. Philanthropic support can ensure that the Penn First Plus Center has the staff, technology, and resources necessary to help Penn create an environment where every student can thrive and feel a strong sense of belonging.
"Our pledge is that if a student comes to us with an issue, we will solve their problem or direct them to someone who can," says Lo. "We greatly appreciate our partners across the University, as well as the donors and friends who make this important work possible."
–––––––
Related Story
New Look at Student Registration and Financial Services
The first floor of the Franklin Building underwent a dramatic renovation to create the SRFS Student Services Center—a one-stop shop for all student needs around financial aid, student accounts and billing, employment, course registration, and student records.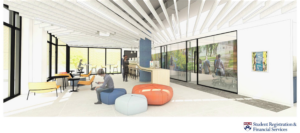 "With enhanced front-line customer service, combined with our website and self-service options, we will be able to resolve the vast majority of student questions on first contact," says Paul Richards, C'10, G'16, Director of Communications for Penn's Division of Finance. "That allows our financial aid counselors and subject matter experts in the Registrar and Bursar's office to focus on more complex cases."
As part of the enhancement of the student and customer experience, the revamped Student Services Center features:
A beautiful reconstruction of the first-floor lobby
Dedicated space and targeted support for veteran and military-affiliated students
A convertible student lounge to use for Financial Wellness @ Penn programming and other student events
In addition, staff are embarking on cross-training across all departments, and SRFS has developed customer service standards that are being rolled out in the current virtual environment.
"Our goal is to provide world-class service to our students, whether they visit us in person in the future or interact with us virtually," says Richards. "When our customer service is integrated across our departments, we can provide more holistic service to an individual student rather than referring them to different service points."
These renovations provide ease of access to crucial student support systems, exemplifying Penn's ongoing commitment to serving students' needs fully and promptly so they can return to the studies, research, or socializing that make their college experiences vibrant and memorable.