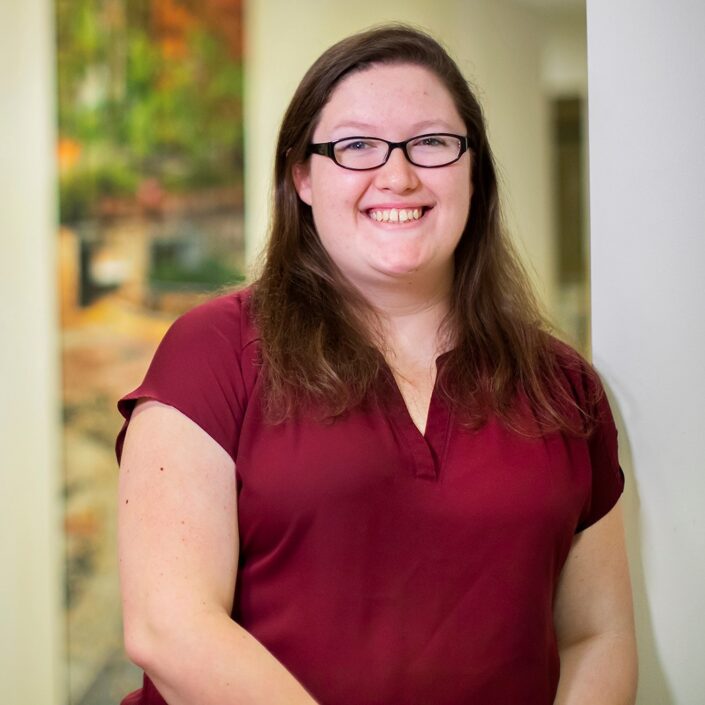 Penn Priority

//
Dollars and Sense: Financial Wellness@Penn
Lyndsi Burcham, C'19, is helping Penn students make better financial decisions

As a student, Lyndsi Burcham was a passionate advocate for her fellow students. Now an alumna, she is continuing this work as the Financial Wellness Program Manager at Student Registration and Financial Services. Burcham discusses how financial literacy fits into Penn's commitment to helping all our students thrive.
You were an active member of the first-generation, lower-income student population at Penn. What changes have you seen in terms of this group's activity and presence on campus?
I came to Penn the year after the Penn First student group was established, so it was great that this community of support existed. Over the past few years, I have noticed students being more willing to talk about their financial challenges. Before it might have been something you only talked about with close friends. Some students still want to hide their financial circumstances, and that's fine. It's not up for me to decide how you want to define yourself on campus, even though I was proud to be vocal about my experiences.
Another thing I noticed is that as more students feel they don't have to hide their financial challenges, that has led to more conversations, more diverse voices, and more ways Penn can respond to their needs.
How does the Financial Wellness @Penn program fit into the University's ability to provide a comprehensive support system for students?
Our goal is to provide students with the tools, the resources, and the knowledge to make smart decisions for their personal goals and financial well-being. That level of planning can be transformative in the daily lives of students, who have so many different things to focus on at any given time.
Financial Wellness@Penn is part of the broader Wellness at Penn initiative, but we are cognizant that students from different backgrounds need different levels of financial education. That also means not assuming all first-generation or lower-income students have the same deficits in knowledge, and it means being mindful when creating programming for both a diverse population of students as well as targeted groups.
What resources do you make available for students?
We have tons of educational content on our website, including a great video on cost of attendance and how financial aid is awarded. I'd encourage it for anyone interested in financial aid at Penn.
The two primary ways we interact with students is through our biweekly newsletter and our workshops. We are also active on social media; we have a weekly Q&A on Instagram and use Facebook to promote events and financially related articles.
Some issues require a personal touch, and we're hoping to roll out peer counseling in the near future. I am always willing to answer questions for students who reach out to me directly.  We've had great engagement, and we're growing our community.
What has been the response to this program? How does it feel for you, who were so recently in their shoes, to be able to continue being an ambassador for students?
It has been really great. Students who are engaged are grateful for our work, and I have talked to Penn staff who say they wish they had a program like this when they were in college. It has been interesting to be on the other side, where I see students asking the same questions I had.
I decided to go into student affairs because of my experience as part of the FGLI community. What I'm doing now feels similar, except now I can fully devote my time to working directly with people who create the policies and programs that impact students. One of the most meaningful parts of my job is knowing these lessons will stay with students long after they leave campus, no matter what they do in life.
Any final thoughts you wish to share?
It is important to remember that financial literacy doesn't automatically solve your problems. I say that to students, and I say that to anyone who holds beliefs like "All you have to do is save money" or "A Budget solves everything." Literacy is the first step; financial wellness means learning how to use those tools most effectively for your own life goals.
We can do so much good with this program, but we must be sensitive to the different circumstances our students face. It is important that we continue meeting them where they are and providing the resources and tools they need to thrive at Penn. I'm happy and grateful for the opportunity to be a part of that process.