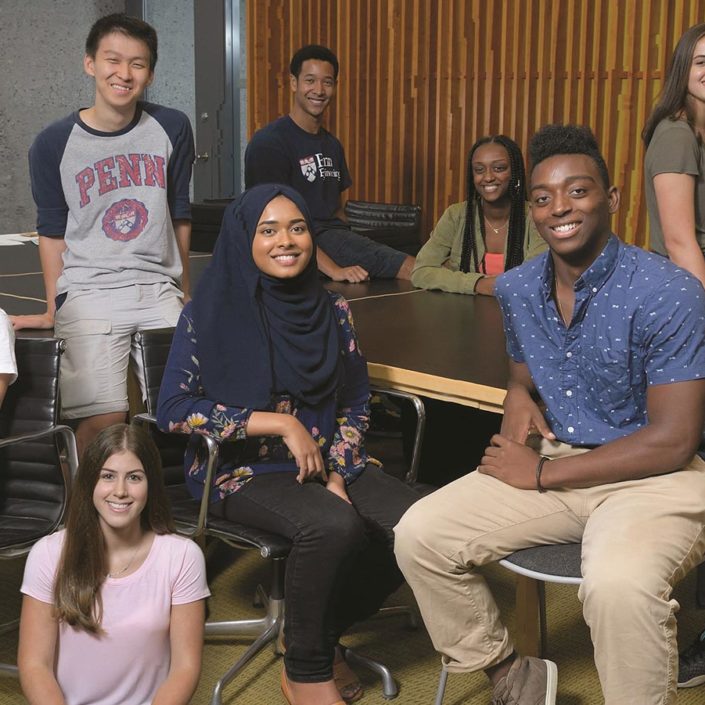 Impact News

//
Engineering for Success
Originally published in 2018 Penn Priority.
The A. James & Alice B. Clark Charitable Foundation is building something special at the School of Engineering and Applied Science.
With the largest one-time gift to undergraduate support in the University's history, the Foundation has established the A. James Clark Scholars Program, a transformative commitment that opens doors for students with demonstrated financial need to become tomorrow's engineering and business leaders. The Clark Scholars Program at Penn combines innovative coursework, service learning, and internship opportunities to create a unique educational experience for talented students from traditionally underrepresented backgrounds, including first-generation college students.
"Among the first Clark Scholars are students who have entrepreneurial skills, are familiar with research activities, and have a sense of responsibility to their community," says Clark Scholars Faculty Liaison Dr. Sue Ann Bidstrup Allen. "This is a diverse group of students from across the country who are the best and the brightest, and I am excited to be working with them as we strive to make a positive impact on the world."
A. James Clark, a Washington, D.C.-based construction pioneer who passed away in 2015, never forgot that his business successes began with an engineering scholarship. Today, the A. James Clark Scholars Program is the Foundation's signature academic program. 
"Mr. Clark believed in the power of hard work and eliminating the financial barriers that prohibit promising students from achieving their full potential," says Joe Del Guercio, president and CEO of the Clark Foundation. "By nurturing original thinking, cultivating broad perspectives, and encouraging the development of practical applications for new technologies, the Clark Scholars Program will help young students develop the leadership skills that the future will require." Penn Clark Scholars—the only program of its kind in the Ivy League—joins a network of Clark Scholars that stretches across ten leading engineering programs in the United States.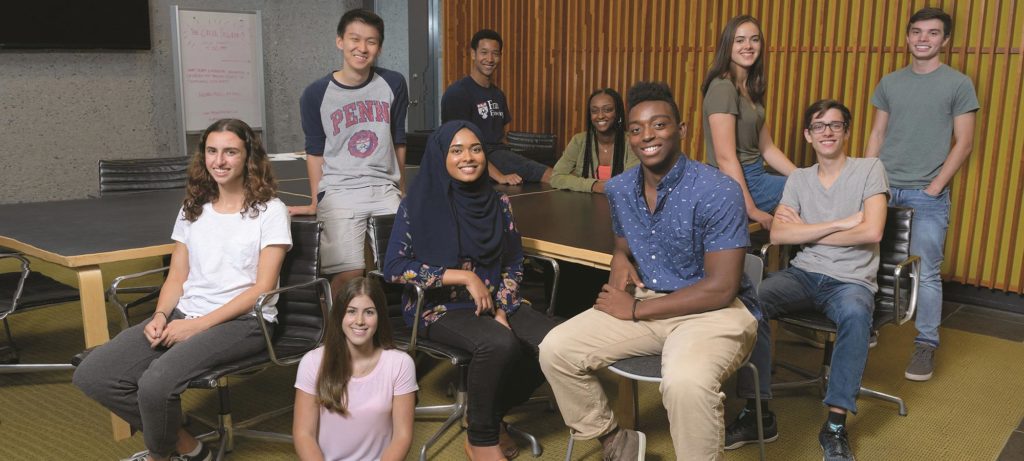 "As a Clark Scholar, I will be better prepared for life after college and will have the knowledge to enact positive change on a global scale," says Estelle Burkhardt, who hails from California.
The Clark Scholars Program goes a long way in maintaining Penn's position as the nation's largest university with a grant-based financial aid program. "This spectacular investment partners the Clark Foundation with Penn Engineering around the shared goal of providing access to a stellar education," says Penn President Amy Gutmann. "Each component of the Program reflects our University's commitment to inclusion, innovation, and impact. Clark Scholars will learn, experience, and apply their knowledge to benefit society throughout their professional and social lives.
In addition to the unparalleled classes offered at the School of Engineering, Penn Clark Scholars will receive personalized mentoring, service opportunities, access to business leaders, and a paid research internship between their sophomore and junior years.
"In the spring, Clark Scholars will work with students at two local Philadelphia schools on an indoor farming project," Dr. Bidstrup Allen adds. "They will be utilizing sensors to monitor and control plant development and moisture content, providing K-12 students with the chance to plant and grow their own food."
This approach complements the in-class work being conducted by Clark Scholars and enables them to directly apply what they learn in a real-world setting. These experiences and the renowned curriculum at Penn Engineering are essential to preparing Clark Scholars for success both as students and as Penn alumni.
"Our goal is to educate and train engineers who will innovate and create novel tools, invent new technologies, and develop new products," says Vijay Kumar, Nemirovsky Family Dean of Penn Engineering. "This program will provide students with the critical thinking and analytical skills required for entrepreneurship, and our faculty and staff will be supporting and steering them through this period of learning as they grow into leaders."
Clark Scholar and bioengineering major Francesca Cimino welcomes the additional learning opportunities and mentoring offered through the Program.
"This will help me build an amazing foundation to one day help other people and share all that I have learned."
The ultimate goal between the University and the Clark Foundation is to foster engineering leadership at the highest level to benefit society. This mission aligns perfectly with the School's Inventing the Future Campaign, which upholds its commitment to innovation and provides the resources needed for Penn engineers to turn their concepts ideas into practical inventions. While changing the world is an ambitious undertaking that will not happen overnight, this inaugural cohort is more than eager to tackle the challenge head on.
"I'm very passionate about making a difference in the communities that I'm a part of," says computer science major Rozi Hidaru. "I am a first-generation college student, and I understand how lucky I am to be a Clark Scholar and have this opportunity. I want to use my time at Penn to learn the skills necessary to make a positive difference in the lives of as many people as possible."