The Maguire College Scholars Program has been established at the University of Pennsylvania since 2013. Through the generous support of the Maguire Foundation, every academic year at Penn, selected students are supported through a Maguire College Scholars scholarship. The scholarship is designed to support students who have graduated from specified Philadelphia area high schools, have been an active participant in extra-curricular activities and community service during high school, and have maintained a 3.0 GPA in high school and will continue to do so in college. The Maguire College Scholars scholarship is awarded to students as they enter their freshman year at the University of Pennsylvania.
Eligibility
To be eligible for the Maguire College Scholars Program at Penn, students must meet the following criteria:
Graduate from a Maguire Scholars Program High School (full list below)
Earn at least a 3.0 GPA or equivalent in high school
Engage in community service and/or extra-curricular activities
Complete the FAFSA (www.fafsa.ed.gov)
Be offered admission to the University of Pennsylvania
Have demonstrated financial need
No additional application is required to apply to the Maguire College Scholars Program at Penn, and students are selected by the Office of Admissions and Student Financial Services.
The Maguire Scholars Program High Schools
Academy of Notre Dame

Agnes Irwin

AIM Academy

Archbishop Carroll

Archbishop Ryan

Archbishop Wood

Baldwin School

Bishop Shanahan

Bonner/ Prendergast

Cardinal O'Hara

Conwell-Egan

Cristo Rey

Devon Preparatory School

Father Judge

Germantown Friends School

Gwynedd Mercy Academy High School

Hardy Williams High School

Haverford School

Holy Ghost Preparatory School

Lansdale Catholic

LaSalle College High School

Little Flower

Malvern Preparatory School

Mastery, Lenfest Campus

Mastery, Pickett Campus

Mastery, Shoemaker Campus

Mastery, Thomas Campus

Merion Mercy Academy

Mercy Career and Technical High School

Mount Saint Joseph Academy

Nazareth Academy High School

Neumann / Goretti

Pope John Paul II

Roman Catholic

The Shipley School

Simon Gratz High School

Springside Chestnut Hill Academy

St. Joseph's Preparatory School

St. Hubert

West Catholic

William Penn Charter School

Woodlynde School
Notification
Students who are selected to be a part of the Maguire College Scholars Program at Penn will be notified in the spring of their senior year of high school.
Questions
For questions about the Maguire College Scholars Program at Penn, please contact Brian LaGreca at blagreca@upenn.edu.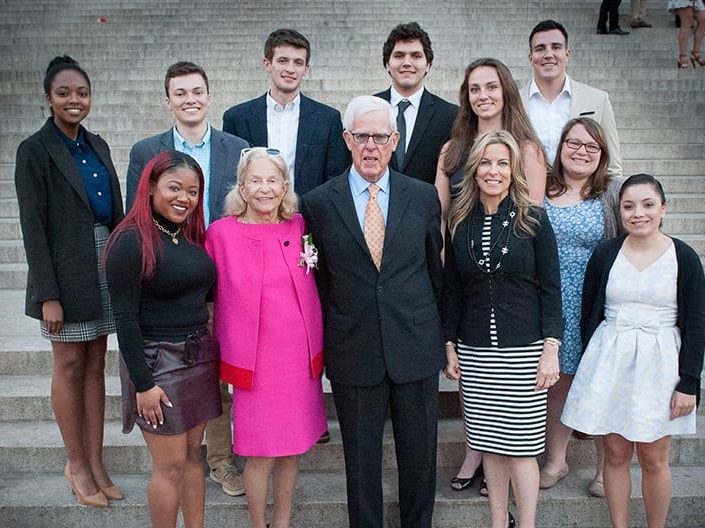 Frances M. Maguire, 1935–2020
We extend our deepest condolences to the entire Maguire family and the Maguire Foundation for the loss of Frances Maguire, who passed away on February 12, 2020. She impacted the lives of so many individuals throughout the Philadelphia region.
Help shape the future of a young person.
By endowing a scholarship, you can support future 
generations of first-rate students who, if given the 
opportunity, can change the world.
Learn more