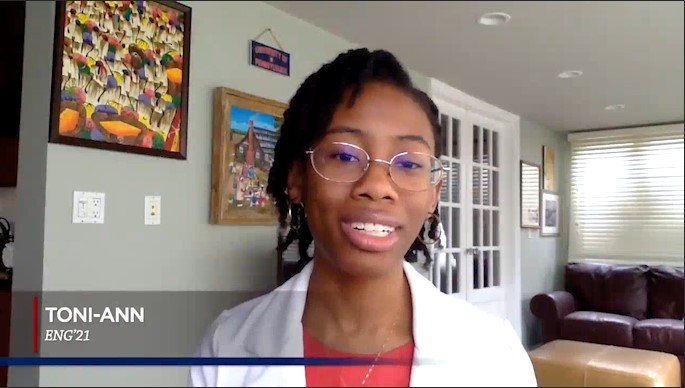 Major

Mechanical Engineering and Applied Mechanics

Hometown

Miramar, FL
Toni-Ann, ENG'21, a mechanical engineering and applied mechanics (MEAM) major from Miramar, Florida, said she thought attending Penn was a "lofty" goal, one she'd only be able to meet if granted financial aid. After receiving her generous financial aid package from Penn, she said she was stunned to see she was one of President Gutmann and her husband's scholarship recipients.
"I stem from generations of hardworking Jamaicans who did their best to provide for those who would come after them," Toni-Ann said, adding later, "The Named Scholarship Program is what made it possible for me to realize the dreams that my parents and their parents had deposited in me all through my childhood."
Toni-Ann exemplifies the value of hard work as evidenced by her time teaching coding to girls in Rwanda with Penn's Service Learning Program, conducting research at Penn's Rehabilitation Robotics lab, and an internship with a drone and aeronautics company in California, all in the summer of 2019. She plans to take her studies even further, as she is sub-matriculating with a master's in MEAM at Penn.
"I aim to earn a Ph.D. while making my imagined technologies into reality," Toni-Ann said. "I hope to use the skills I am learning now to develop novel technologies based on the ingenious devices that living things depend on to survive."
Looking ahead, Toni-Ann sees the financial aid she received as much more than her personal benefit. It's a "scaffold for the others that will come after me," she said.