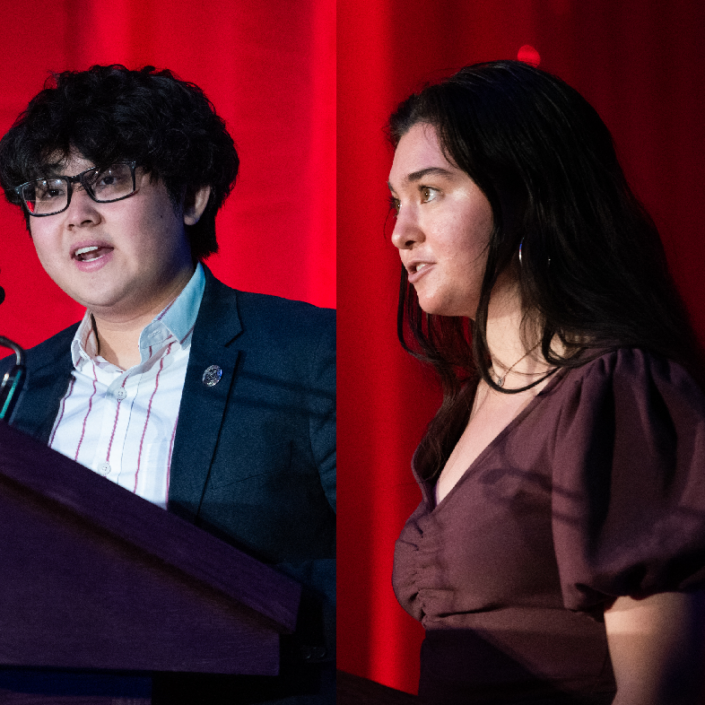 Penn Priority

//
Strong Students, Strong Networks
Penn's Named Scholarship Program possesses a unique ability to bring people together.  Just ask Meg, C'23, and Derek, W'23.  Both scholarship recipients quickly discovered a common thread throughout their Penn experience: the power of interpersonal connection and its defining role in their time on campus.
Before arriving at Penn, Derek, a management major and the son of Vietnamese immigrants, believed that hard work alone would allow him to become self-made. Now, what he thinks of as the "American Dream" is informed by the idea that it also takes other people's help to achieve goals and build success.
"I realized that I wasn't self-made at all, and I'd argue that the same goes for everyone else, too," he says.
This mindset spurred Derek in his quest to help others and even inspired him to pursue and win election as President of the Class Board of 2023, where he serves his classmates at one of the highest levels.  You can also find him welcoming prospective students and their families to the University as a Kite and Key tour guide, coordinating New Student Orientation, mentoring first-generation students, and volunteering in the neighborhoods surrounding campus.
"I came to Penn to learn how to better serve my family, community, and humanity," he says.  "Since being admitted, I've strived to follow through on my purpose in as many capacities as possible."
Meg also deeply understands the power of connections academically and personally.  A cognitive science major, her studies have focused on brain networks.  In her studies on nodes, or the individual points in networks, she sees parallels between her experience at Penn and the concept of betweenness centrality, the extent to which a single node links to others.  After her father passed away the summer before she started third grade, Meg realized that her familial network was  "a tiny, three-person cluster that had lost one of its central nodes." Meg was intimately aware of the impact of these connections and relished the opportunity to join the Penn community, channeling her lived experience into her work with Penn's world-class research community.
"My goal isn't to make as many connections as possible," she says, "but rather to have a few strong, meaningful relationships and to make far-reaching connections that link people and ideas that otherwise wouldn't be linked."
Those connections are evident through Meg's engagement.  She is chair of the Student Committee on Undergraduate Education and president of the Benjamin Franklin Scholars Advisory Board.  Creatively, she challenges herself as a writer and editor for 34th Street magazine and by leading a poetry workshop at the Kelly Writers House.  And her work as a resident advisor gives her ample opportunity to foster community where she lives on campus.
For both Derek and Meg, scholarships have allowed them the space to grow as individuals and in their ability to reach outwards.
As Derek shares: "I think of myself as a tree.  The more food and water I receive, the more fruit and shade I can offer to others."
And these networks they have created—between friends, classmates, professors, and mentors—do not end once Derek, Meg, and their fellow 2023 classmates graduate in May; they are constructed to last a lifetime.
"What's unique about the Named Scholarship Program is how it connects many people who otherwise might not have been able to attain a Penn education," Meg says. "Our scholarship donors, the great people who make an affordable education at Penn attainable, are our central nodes, the people that make our strong networks possible."