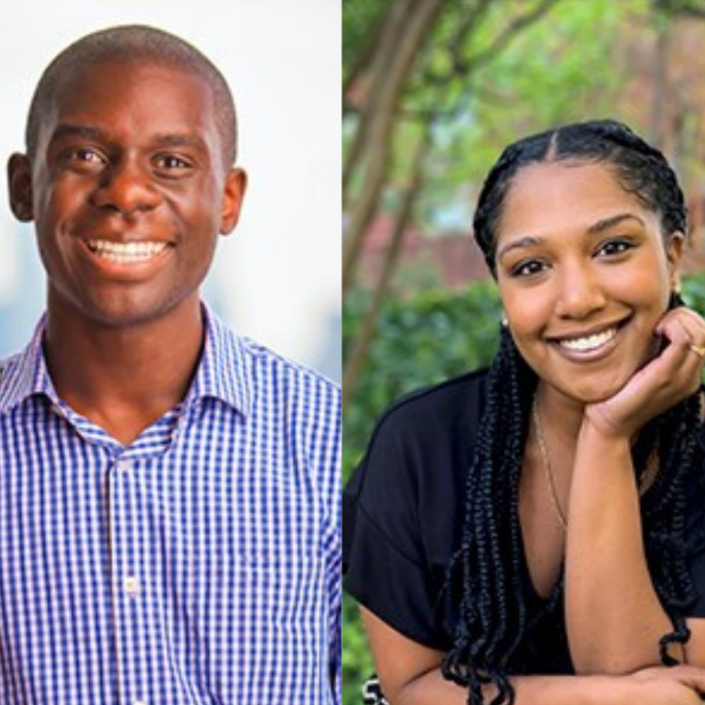 Impact News

//
Together We Climb
For Named Scholarship recipients Mckayla Warwick, C'20, and Kwaku Owusu, W'20, community means everything. Both students enriched their undergraduate experiences with clubs and activities, such as Warwick's involvement with the African American Arts Alliance and Owusu adding his voice to Penn's Glee Club and Counterparts singing ensembles. Warwick and Owusu met as part of Penn's growing population of first-generation and/or lower-income students—a community that has become more visible and vibrant over the past few years.
"Before college, the identity of being a first-generation, lower-income student didn't even exist for me," says Warwick. "Now, it is a core part of my character."
Graduating this year, Warwick and Owusu have joined the select group of individuals who have won the President's Engagement Prize. Established in 2014, the President's Engagement Prizes inspire Penn seniors to design and undertake local, national, or global engagement projects during the first year after they graduate from Penn. Warwick, Owusu, and partner Hyungtae Kim, C'20, earned the honor for their project, Collective Climb.
Guided by an Akan proverb—"Climb a good tree, and we will rise"—Owusu, the son of Ghanaian immigrants, envisioned a community-based model of self-sustained financial empowerment. "Financial literacy skills are important, but many people lack access to this knowledge," Owusu says. "We are lifting people up, while connecting the immigrant and minority experiences."
Owusu recruited Warwick, a sociology major who added teaching and mentoring experience. "My minor is in urban education," Warwick says. "As we discussed our ideal model, I was very interested in concepts focusing on community, where different people and ideas fit together for a broader purpose."
For Collective Climb, that purpose began with financial empowerment. Initially, the project included an after-school financial education program at Sayre High School in West Philadelphia as well as "community pots," similar to the concept of "susu," popular in African and Caribbean populations.
However, in response to social inequity and political injustice, Collective Climb has found a new purpose: to build a restorative justice practice for marginalized youth who have been contacted by the justice system.
"Our goals are to empower youth and forever transform the Philadelphia carceral state," says Warwick. "Cases will be referred to our program in lieu of punitive measures. Collective Climb's restorative practice will provide an alternative space for healing, reflection, and reconciliation between youths who have committed minor offenses, aggrieved parties, and the communities they call home."
Collective Climb exemplifies the creativity that can emerge when talented and driven students are able to access a Penn education. As Owusu, Warwick, and Kim continue to grow the initiative, they envision helping communities build stronger bonds of support and mutual respect, similar to how first-generation and lower-income students have created a vibrant support network on campus.
"It's important to have spaces where we can talk about issues, especially ones that affect our livelihoods," Warwick says. "Breaking down those barriers of self-isolation and bringing people together in shared purpose is what makes a community great."